While the majority of LuckyPony.com deals in tack and equipment for the (trendy!) equestrian, occasionally our orders are for tack and hardware meant specifically to be used in equestrian decor- particularly items from our Barn Hardware category. Here are 6 horse themed bedrooms, for inspiration, that are our favorites this month: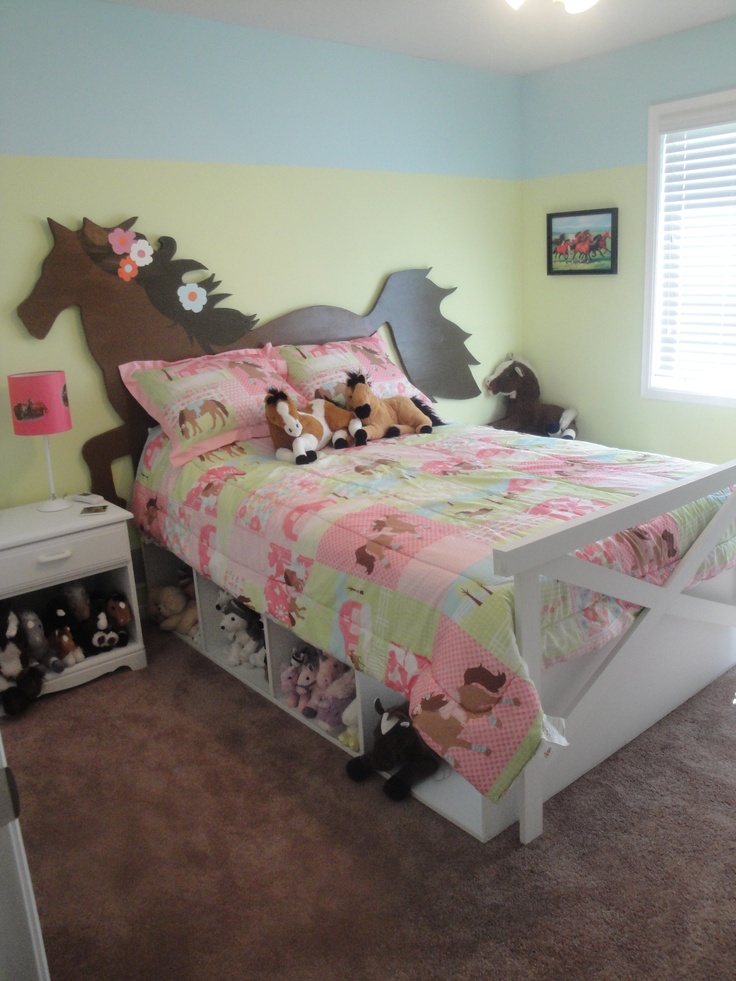 source unknown
This horse crazy kid bedroom has a big impact with a small investment. A simple white bedframe in a french country style is made horse-tastic with the addition of a handmade headboard. It looks like 1 standard 4×8 sheet of plywood was cut into the shape of a horse, painted to match a favorite horse or match a color scheme, and secured to the wall as a headboard.
Around this dramatic central piece, the room can be accessories with horse theme items or decorated in simple solids, to let the headboard be the focal point.
I love the daisies in this horse's mane, however for a young rider beginning to compete, it would be the perfect spot to display hard-won rosettes and horse show ribbons!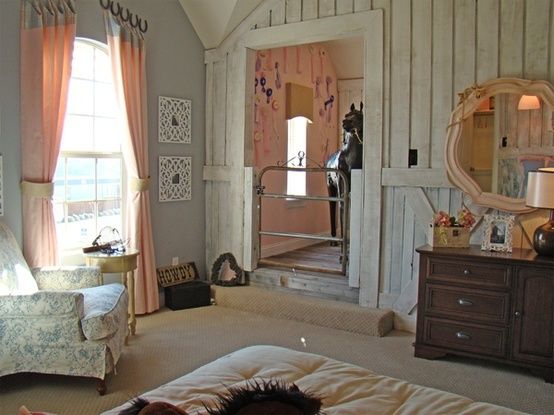 (source horsenation.com)
Perhaps my favorite bedroom from this set, this girl's horse theme bedroom uses more subtle styling, and mixes feminine prints and pinks with soft textiles and an elegant curved mirror.
Whitewashed weathered wood on one accent wall, and a doorway (to a bathrooom?) with door removed and replaced with a garden gate creates a dramatic barn-like charm in this girl's room.
image source: potterybarn.com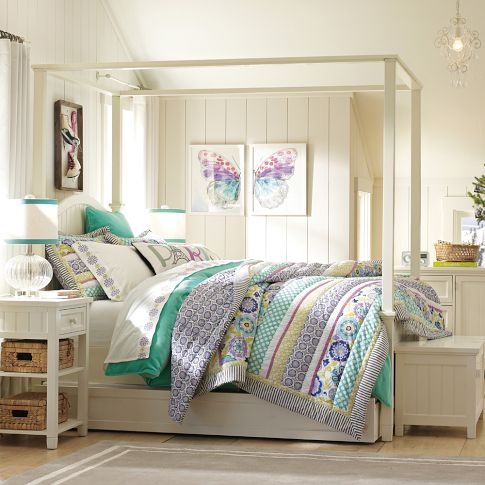 Though this room isn't distinctively equestrian, it's one of my favorite go-to images for creating a basic interest-themed kid's bedroom. The bones are clean, basic, and stylish, but the generic furnishings leave room for bold decorations, that can change more easily as a child's interests change.
I particularly love how, in this photo, sports equipment is framed and displayed. In this image they use ice skates, but a well used halter, bridle, or other horse equipment would make an equally stylish vignette.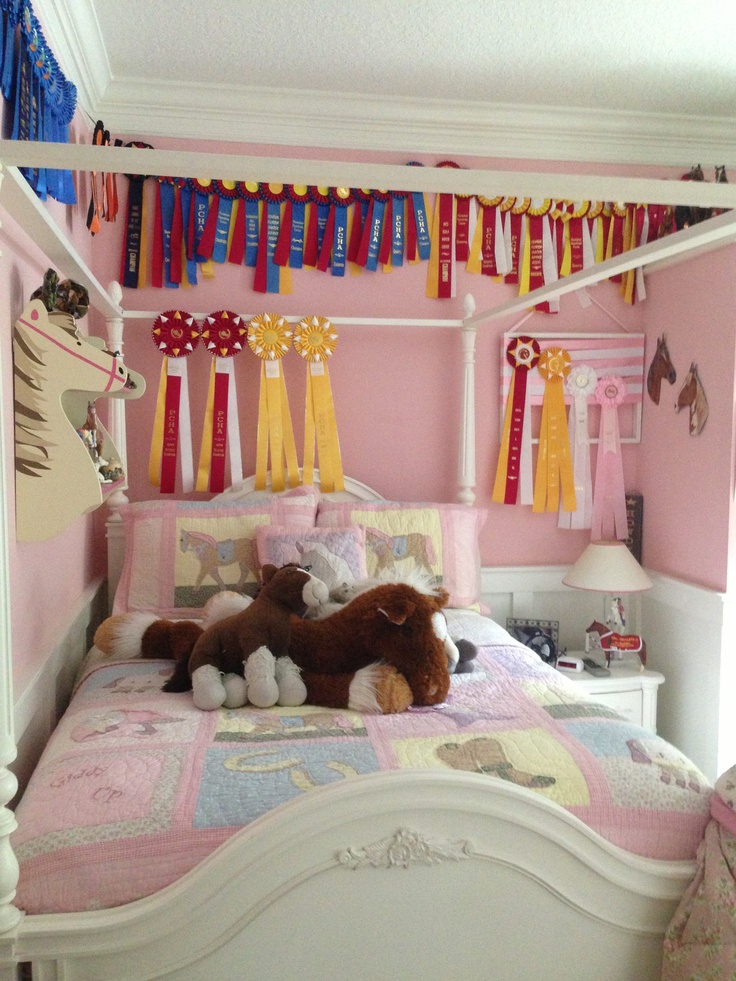 Another great example of very basic design and decor, brought to life with a child's interest by displaying ribbons, themed bedding, and equestrian accessories.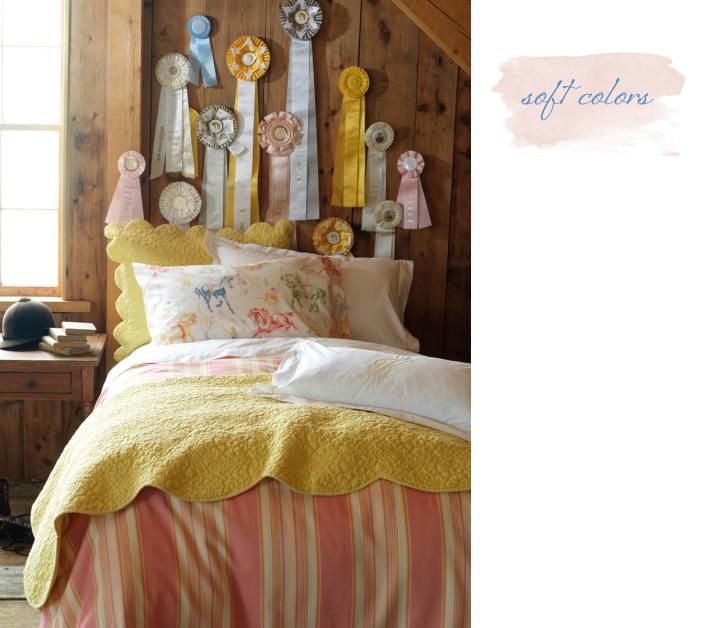 image source: 79ideas.org
Love this horse themed bedroom! Basic linens and a dark accent wall come to life with subtle equestrian throw pillows and sweet pastel show ribbons. A hunt cap on the nightstand underlines the equestrian theme.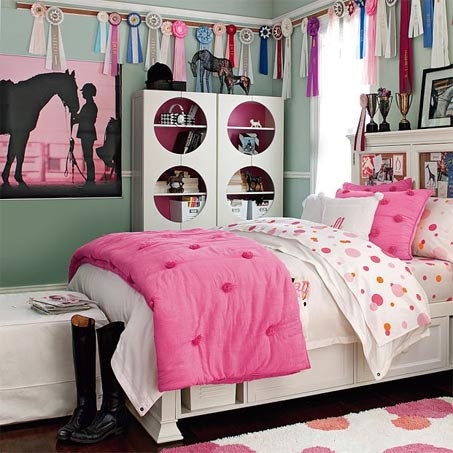 In this room, again basic bedding and neutral furniture pieces are customized to current hobbies and obsessions with a high picture rail for ribbons and equestrian accessories.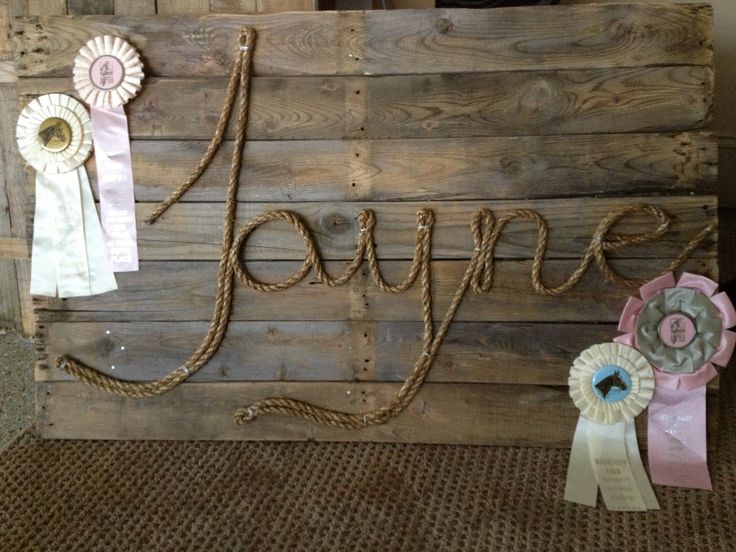 (source unknown)
While not a room, this sign would make a great focal point or over-the-headboard art for any horse-crazy or cowgirl-kid! simple to create with pallets, manilla rope, and horse shoe rosettes.