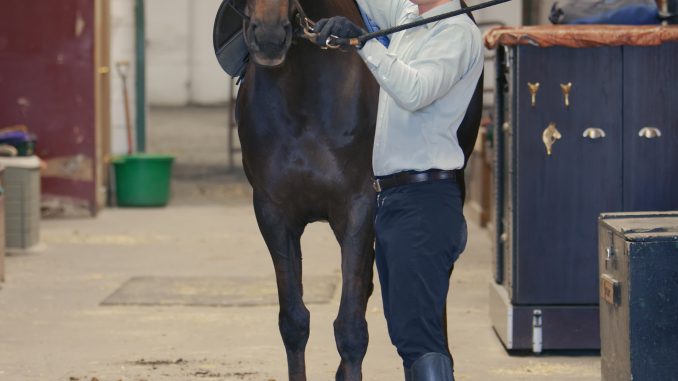 The Cross Tying is a method of tying frequently used in the United States and in most riding discipline types. In cross tying, instead of being tied by one rope, a horse is secured by one rope on either side of their halter, attaching to rings on either side of the horse, usually in an aisle between horse stalls. Cross tying is frequently used to prevent horses from turning around or moving excessively when being groomed or tacked up.
Training a Horse to Cross Tie
Training a horse to cross tie is a basic skill all horses should have. To train a horse to cross tie, a horse should first know how to be tied in the traditional method of single tying. The horse should know to yield to pressure. When training a horse to cross tie attach the cross ties to the horse loosely, without attaching the lead rope. Stand holding the lead rope with plenty of slack and under close supervision, allow the horse realize it is constricted on both sides and is prevented from moving too far in either direction. Some horses may feel claustrophobic so keep the crossties loose at first and the lead rope securely connected to help reassure the horse. Gradually, work with the horse to understand the boundaries of only stepping one or two steps forward or backward before being blocked by the tie. This training may need to be repeated over a longer period of time, but as long as you stand near your horse and use safety ties to cross tie is your horse, cross tie training should go relatively uneventfully.