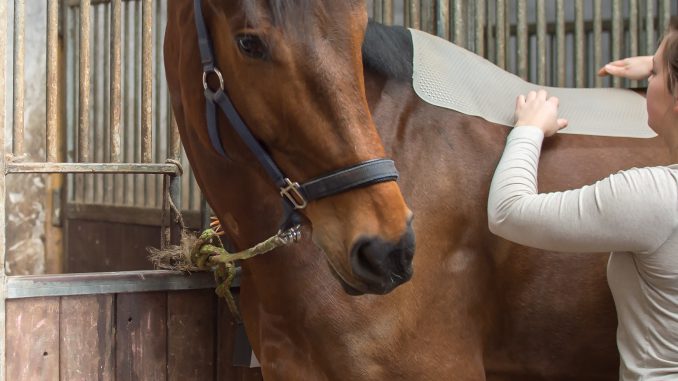 Some of the most common questions we get from new horse owners purchasing tack for their own horse for the first time is how to know what size saddle pad to purchase for their horse. Many are concerned their horse might be too big or small for their saddle pad. The good news is that saddle pads are one tack item that are typically very easy to size! Because English and Western pads are sized very differently, we've separated this article by discipline.
Sizing English Saddle Pads
With a few exceptions, english saddle pads are a "one size fits all" product. Though specific measurements will vary from manufacturer to manufacturer, most horse size saddle pads have a 17-19 inch drop (the drop is the distance from the center seam to the bottom hem) and a 24-26 inch spine (the spine is the center seam of a pad, where the pad is folded).
Pony size saddles pads will be 3-4 inches smaller in each dimension. This universal sizing is possible because of the relatively small variance in saddle size. A 15 hand horse can wear the same saddle pad as a 17 hand horse because the seat size of a saddle is matched to the rider, not the horse.
With so many different saddle shapes and features, and so many unique horses, there are of course exceptions that will prove the "one size fits all" norm to be wrong. Many times an english saddle larger than size 18 will need a larger than average saddle pad, (such as an Oversize Dressage Pad   regardless of the size of the horse.
Because pads can vary by several inches from brand to brand and style to style, it's a good idea to notice which saddle pads fit your horse and your saddle well and take note of that pad's measurements on your cell phone, so you'll have the information handy next time you are purchasing a saddle pad.
Sizing Western Saddle Pads
True to the same basic rule, western saddle pads are a also generally a "one size fits all" product- though the western saddle pad industry offers more options to accommodate the variance in skirt size on western saddles. The average western saddle pad will measures 32 inches by 32 inches or 30″ x 30, square, when unfolded. That means most western pads have a 15-16 inch drop (distance from the center fold to the bottom edge) and a 30-32 inch spine. Like English pads, relatively universal sizing is possible because the saddle pad is fit to the saddle.
Experimentation will be important to determine what size fits your horse best, but if you are a smaller rider with a well-fit saddle you should first try a 30×30″ saddle pad. If you are a larger rider in a well fit saddle, or a smaller rider in a saddle with a larger-than-needed seat, a 32×32″ saddle will likely be a better fit.
Finding Saddle Pads for Draft Horses, Ponies, and Miniature Horses:
Because, as mentioned above, saddle pads are fit to the saddle rather than the horse- most standard saddle pads will fit on draft horses. Sometimes draft horses in large dressage saddles may need an Oversize Dressage Pad to accommodate the width of the back and the wide-gullet saddle needed to accommodate most draft crosses.
Ponies and Miniature Horses, with their smaller riders and smaller saddles, need special consideration when selecting a saddle pad. Standard "pony size" saddle pads are generally designed to fit the 13 hand to 14.2 hand pony. For smaller ponies and miniature horses, you may need to locate a saddle that will fit first, and use the measurements of the saddle to select a saddle pad. Our Western Miniature Horse Saddle Pad measures 20 x 20 inches, while our English Miniature Horse Saddle Pad has a 15.5″ spine and a 17″ drop.