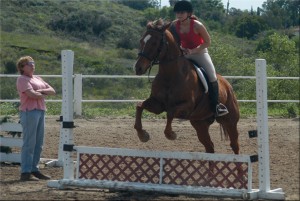 Many young would-be riders, or parents of young potential riding lesson students wonder how much riding lessons might cost. Riding lessons can vary in cost quite a lot depending on the barn, the instructor, or the horses used in the riding lessons. Much like gymnastics or other sport, the costs of horse riding lessons is much higher if the coach has coached young olympic riders or if the stable is brand new and very fancy.
The cost of MOST riding lessons is between $30 and $50 per lesson. Here are three ways the cost of horse riding lessons can be lowered so riding is more affordable for you or your child.
1. group lessons. Though not recommended for a riders first few rides (one on one attention is very important to ensure a new rider understands and follows basic safety rules and becomes safe and comfortable on their horse) group lessons are a great way to cut cost AND make lots of friends. In a group lesson riders will warm up and cool down together, but during the lesson will wait and take turns trotting over poles or taking their horse through a pattern. Group lessons can be lots of fun and an easy way to not get overwhelmed with everything you are learning. The drawback of this method of taking less expensive riding lessons is that if you are really struggling in your lesson, the instructor cannot take the time to work with you one on one, because they are equally commited to other clients.
2. Shorter lessons. Most instructors get one hour or sometimes 50 minute lessons at a time. Ask your instructor about 30 minute or 45 minute lessons as a way to make your horse riding lessons cost less.
3. Shop around! Sometimes the best place to learn doesn't have the nicest brochure or the nicest facilities. Your local Tack Store (aka Saddle Shop) should be happy to provide information and opinions about local riding stables that offer horse riding lessons. Tack store managers have a great pulse on the local horse riding community and have heard reviews from lots of riding lessons students and ex-students. They should be able to tell you which horse riding stable is the best fit for you based on the type of riding you want to do and the goals you have. Most tack store owners and managers are more than happy to chat and refer new riders to a good lesson barn- new riders is the best way to grow their business! Your local tack store can also give you an idea of how much horse riding lessons do cost in your area, since the cost can vary according to where you live.
4. A forth way to make your horse riding lessons cost less is to offer to work in exchange for lessons. Some riding lesson stables will allow you to work of 100% of the cost of riding lessons by cleaning stalls and doing chores. Others may allow a partial trade to help reduce the cost of your horse riding lessons.
Using these tips, you may be able to arrange for your horse riding lessons to cost little or nothing- but the education you'll recieve in return could be priceless!