How to Put in a Three Tube Horse Tail Bag:
Putting in a three tube tail back is quick and easy once you get the hang of it! Three tube tail bags have the advantage of less hair-on-hair friction and therefore may mean less breakage. Three tube tail bags are an excellent wait to keep light colored horse tails clean. The following are directions how to put in a three tube tail bag:
1. space down about 2-3" from the end of the tail bone and divide tail into three sections.
2. Slide a tube over each section
(if you bought the stretchy ones, just stick your hand through the tube, grab tail, and pull through)
3. There should be ties at the top of each tube, wrap the tie all the way around the section and tie.
4. (This is the secret to getting them to stay in!) Space down about 1" from the top of the sleeve and attach a plastic zip-tie tightly around each sleeve.
5. Begin braiding- start very, very loose then tighten as you reach the bottom.
6. Add a zip tie tightly around the bottom, then add 3 or 4 in the middle.
Occasionally horse tail bags can be difficult to attach. Tail bags actually stay in place better on dirty, thin, or particularly unhealthy tails, but if your horses tail already is or may soon grow to be long, thick, and healthy you may have more problems keeping a horse tail bag in place on your horses tail. Tail bags are particularly difficult to keep in place on horses that are turned out, and during the summer fly season. (If using a tail bag during fly season remember to add a switch to the end!)
One tip we've discovered that is especially effective at helping lycra tail bags stay in place is using plastic zip ties. Simply attach the tail bag as normal, then attach 2-3 tail bag tightly around the outside of the braid, as shown. Be SURE your top zip tie is at minimum 5-6″ spaced down from the bottom of the tailbone.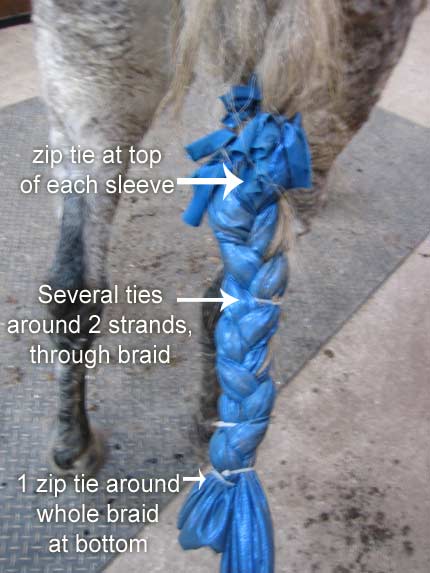 How to Put in a Three Tube Horse Tail Bag