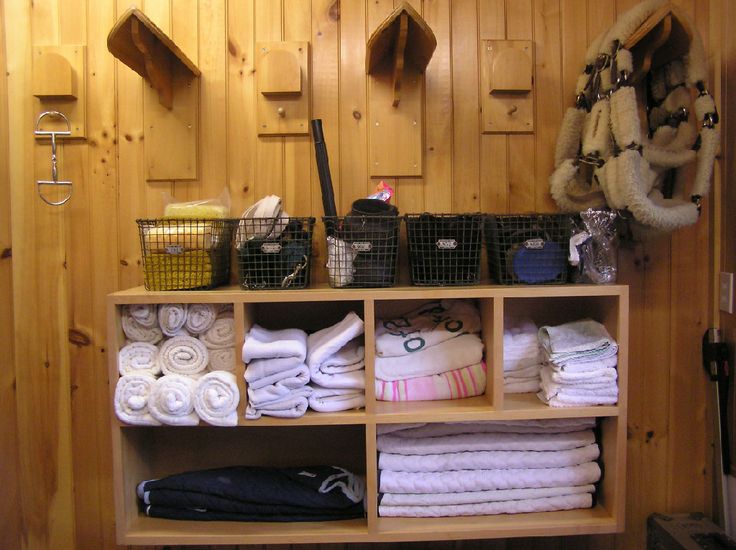 Your barn is a place where you will spend many hours of your life- and while the stalls and aisles are designed for your horse's safety and enjoyment, the tack room is yours! Creating a tidy, trendy tackroom with a small desk or comfortable chair can transform this typically utilitarian part of your barn into your personal sanctuary. Here are 10 ideas to turn your tack room from a dreary, cluttered storage room to a personal oasis.
1. Cover the Basics to Care for Your Space
If you dream of a comfortable, stylish tack room, your first step should be taking care to ensure your tack room will be a well constructed space. There's little reason to bother with decor if loose wall boards or doors that don't close properly will guarantee a constant influx of dust and debris filtering into your tack room.
Take the time to install exterior doors with seals (or add weather stripping to existing doors) and seal any gaps in your existing barn walls. This doesn't have to be expensive, take advantage of building-supply thrift stores like Habitat for Humanity ReStores to inexpensively purchase doors, windows, flooring, and even lighting to create the building blocks for your tack room.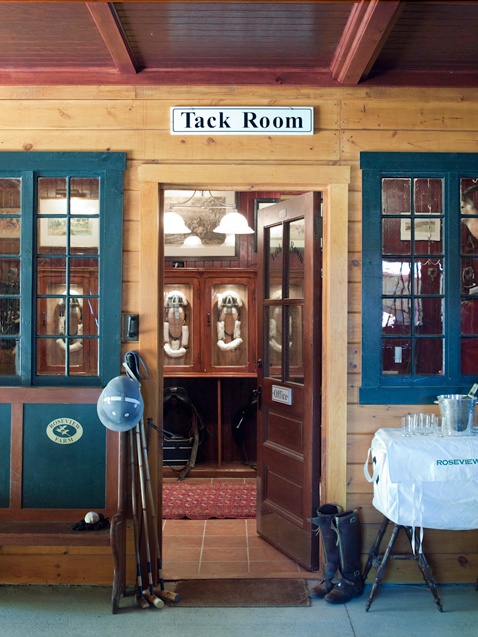 2. Choose an Interesting Color or Wall Finish
Don't be afraid of color! Many barn owners choose white walls or even exposed, unfinished plywood walls, but painted or paneled walls are one of the easiest and affordable ways to bring style to your tack room. While the color and finish of your stall fronts and barn walls are dictated by the high durability materials required for a stable, in the tack room you can let your style shine.
Choose a soothing grey, a cheerful yellow, or make a dramatic statement with bold green, turquoise, or navy walls.
If you prefer white or natural wood walls, select an interesting texture for your walls- such as paneling bead board, or traditional car siding as shown in the image below. Beadboard can be installed for roughly the same cost as plywood walls, and costs significantly less than installing drywall.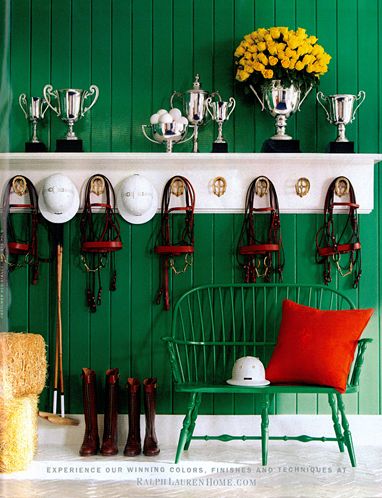 3. Add Art.
Vintage feed signs and old horse show posters are a great way to stylishly decorate walls. If you're a rider who could use an encouraging word before you mount up, check out inspiring word art on Etsy.
I love this particular sign, a stylish reminder of what I personally need to hear every time I pull my saddle out of the tack room!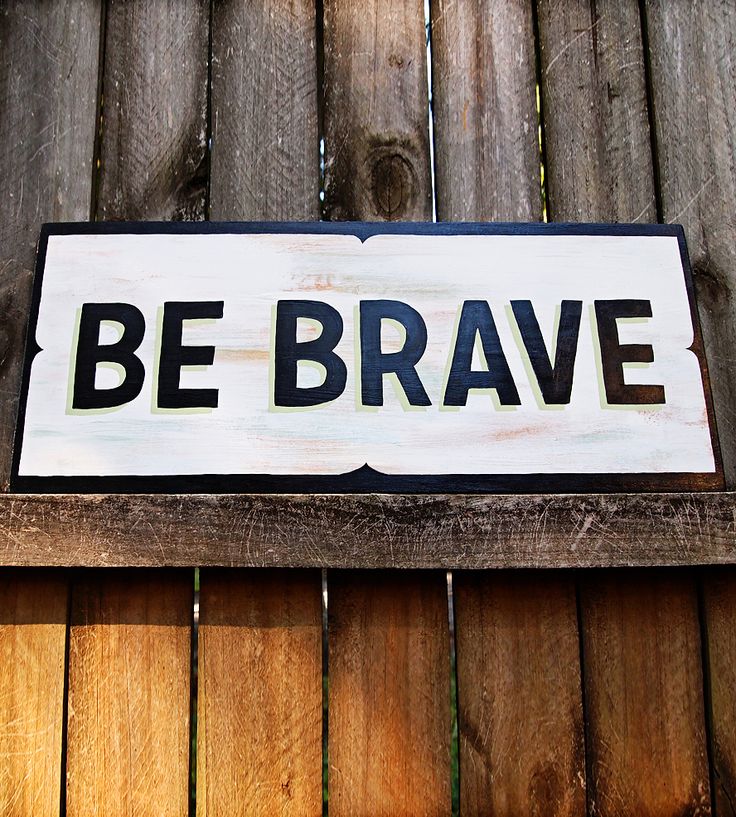 4. Organize Vertically
While bins can create easy storage, it can be difficult to find specific items in a hurry. Hanging items on the wall functions as storage and decoration- and guarantee you'll never have to frantically dig through a dozen bins searching for a certain piece of equipment while your vet or trainer waits impatiently.
Pegboard – pegboard can be used to store a variety of hardware. For a high end look, paint, mount, and then trim the edges with a matching or contrast color painted trim.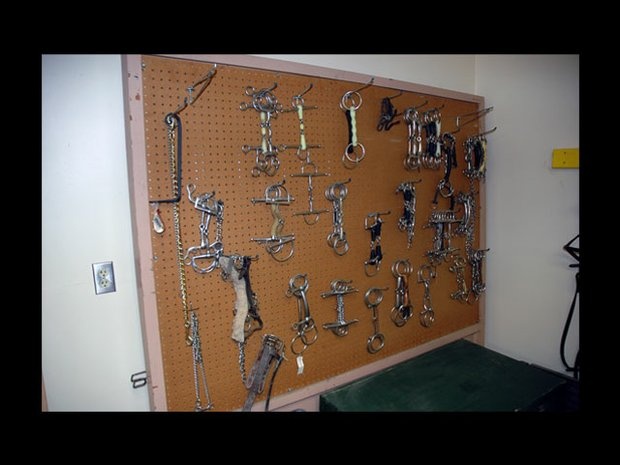 Velcro walls – Mounting velcro to an unused section of wall can create an easy way to store bell boots, tendon boots, fly masks, and other items with velcro.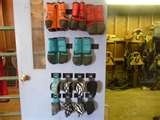 Hangers & Rods
While bins with lids are best if your tack room isn't sealed off from the dust of the stable, hanging is the best way to store items such as saddle pads in most tack rooms. Mounting a closet rod and purchasing hangers with clips is an idea way to store english saddle pads. Western pads can be hung on an -frame style freestanding saddle pad rack Hanging your saddle pads allows air to circulate, drying wet pads, and then the pads can be easily moved and store close, once dry.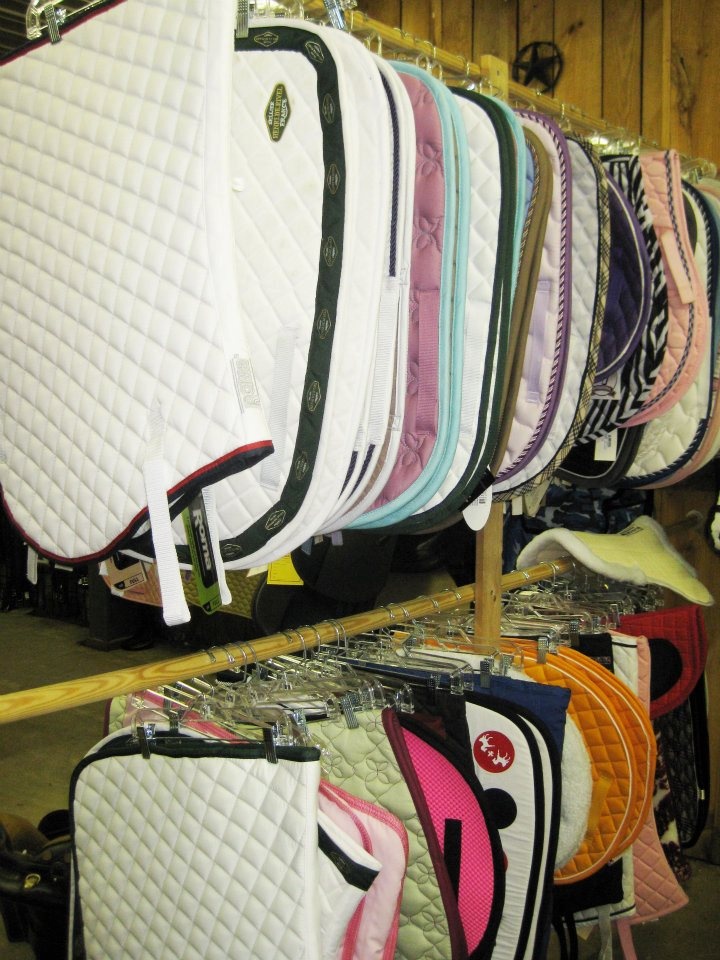 5. Select Attractive Hardware
While most of us can't afford luxury grade custom tack room fixtures, we all deserve to hang our tack investments on something a little classier than the old pony-club tuna-can bridle racks.
Hardware is an investment in your tack room that you'll enjoy for years, so if you can't outfit the entire room with distinctive hardware, or upgrade one section of racks at a time, choose one special area to populate with distinctive tack room hardware that will show off your favorite tack pieces.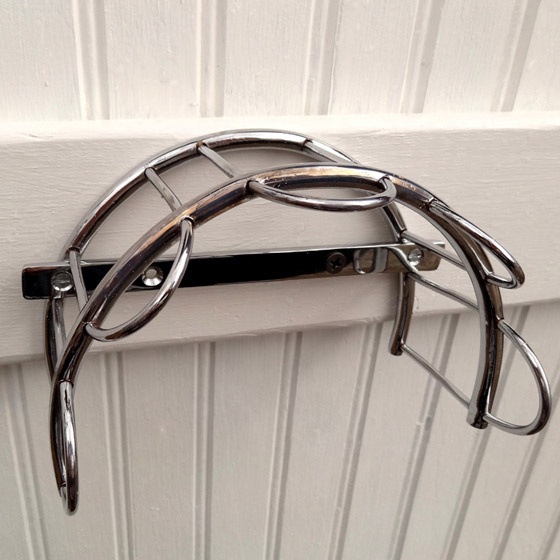 To minimize holes in your walls, support hooks with heavy loads, and visually anchor your bridle racks, try mounting your tack room hooks and brackets first on a piece of painted or finished wood trim, then mounting the trim securely to studs or beams behind your walls. This can make even plain bridle brackets look upscale: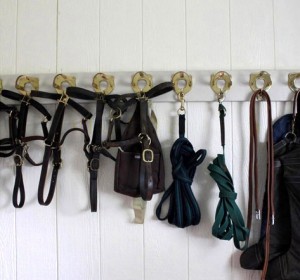 6. Use Your Empty Space:
If you have an empty wall in your tack room, or a narrow tack room with a door that requires one wall be left blank, this schedule board is a great way to use the wall space usefully without losing any floor space. Simply section off squares using painters tape and paint your wall with dry-erase or chalkboard paint. These writable walls are also ideal for feed rooms when a dry erase feeding chart isn't large enough.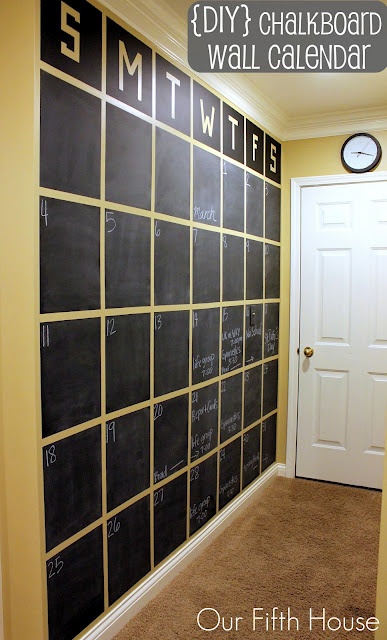 7. Add warm Flooring
Most tack rooms include a poured concrete floor, shared with the barn aisle and grooming stalls. Adding an attractive floor is one of the fastest ways to cozy-up your tack room and create an eye-catching space. With many concrete stains and paints on the market- the sky is the limit! If you aren't ready to commit to the cost of stained concrete for your tack room, creating a painted floor pattern or painted rug may be a fun afternoon project to make your tackroom unique and fun. Painted floors, unlike rugs or carpet, are easy to sweep and handle the barn environment much easier.
For a warmer feel in your tack room, try a painted faux wood finish on your floors: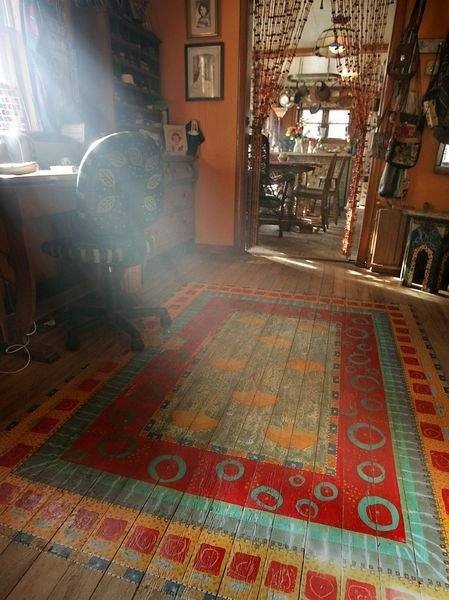 8. Create Specialized Storage:
It's much easier to maintain organization if each type of supply or tack has a designated place it belongs. Grooming cubbies and matching prtable grooming totes are a great way to reign in the mess of small grooming supplies.
Tired of your grooming kit spilling out of buckets and drawers? Try traditional grooming totes organized on shelves for neat, attractive, and out-of-the-way storage. At LuckyPony.com, we carry both Solid Wood Grooming Totes (in your choice of finish) and Engraved Nameplates (easy to attach, request nail attachment)
source: roseviewdressage.com
9.  Storage for Seasonal / Occasional Use Items
Corral miscellaneous supplies like shipping boots, wraps, fly spray, and bucket heaters with designated storage. Second-hand shelves, bins, cabinets, and even lockers can provide a place to store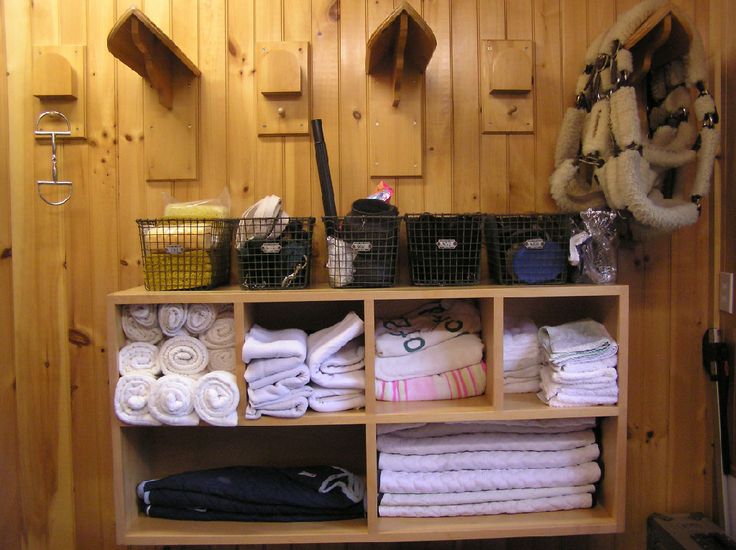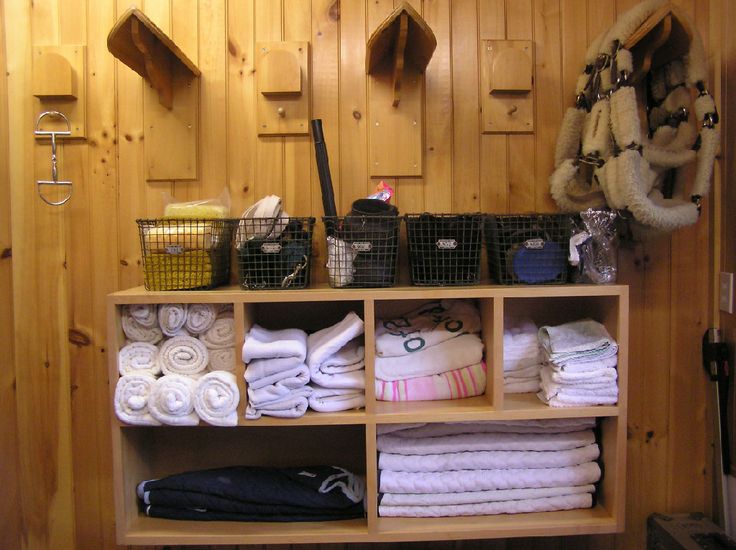 10. Don't limit your furniture to outdoor grade or industrial grade- You've invested in a space that's yours – so be sure and add furniture that's useful and enjoyable. brightly painted desk makes a cheerful space to store horse records and keep a few basic office supplies handy. Use a larger table or countertop to create a workspace clean, repair, maintain, or adjust tack.
These options aren't limited to elite barns- cabinets and countertops can be picked up at discount home improvement stores or Habitat for Humanity ReStores for as low as $25.